Toy Guns shipping from China can only send to USA and Russia! Free Postage for all orders! buy 3 more items 18% off discount code: zd18

Hanke Kar-98k Sniper Gel Blaster Review
2021-08-14
Hanke kar98k gel blaster Introduction:
1:1 Scale Ratio realistic new version of KAR 98K in the market.
This product come from Guai Qiaohu / Hanke Toys.

Single-shot Bolt-action Shell-Ejecting sniper Rifle

it is distinguished by the use of cartridges.
The cartridges jump when you reload the sniper.
The gel balls are putted on the shells water bomb. You can put 5 shells water bomb on the sniper.
The pull bolt group made of nylon, strong and durable.
Dual Strap Attachment Points
Recommended Gel ball size: 7-8mm (7.4 – 7.6mm)

Material:
Nylon Bod
ABS Butt Stock
Nylon Bolt with Metal Internal Components

Performance:
Up to 130-170 Feet Per Second
Up to 25m Firing Distance
Initial velocity: 50ms
Specs:
Length: 102cm (130cm with Flash Hider)
Width: 2.5cm
Height: 7cm
Weight: 1950 grams
Presentation video of the KAR 98K
The product is delivered like this:
You need to follow the instruction to assemble it.
We will send you a video instruction when we sell it.
This product made a very strong impression on the first customers who are very satisfied with the quality of construction.
it's shell ejecting: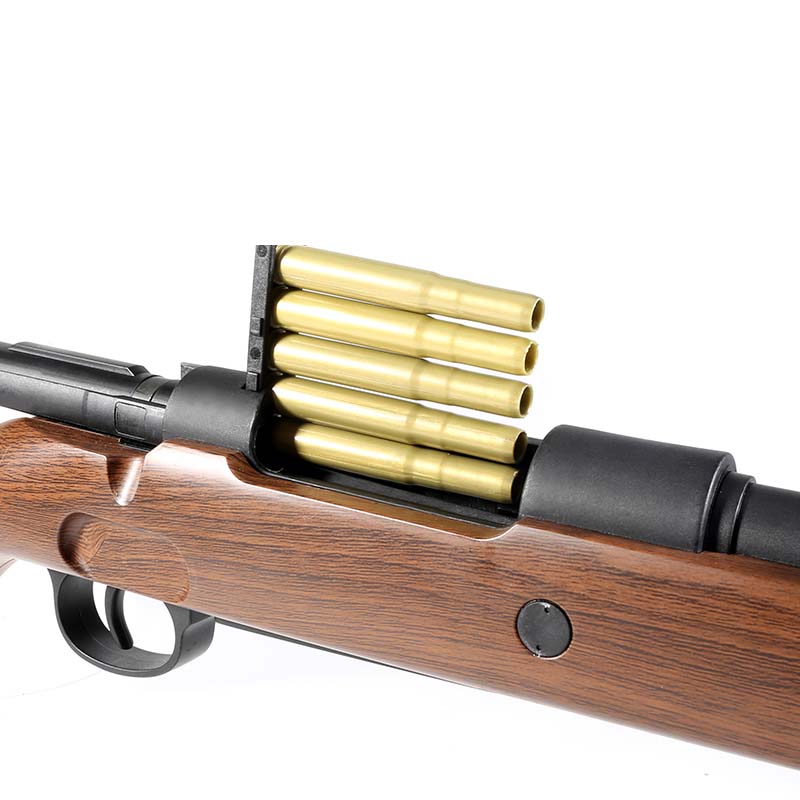 2 colors is available: light brown and dark brown.
More photos of the products: